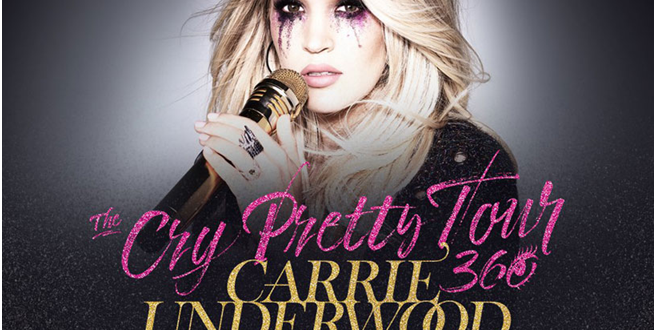 Carrie Underwood: THE CRY PRETTY TOUR 360
ON SALE: FRIDAY, AUGUST 17, 2018 10AM PST
Nashville, TN – (August 8, 2018) – Seven-time Grammy winner and Pollstar's three-time top female country touring artist, Carrie Underwood, will launch a new arena tour, The Cry Pretty Tour 360, in Spring 2019. Sponsored by CALIA, the new tour will kick off on May 1 in Greensboro, NC, and will play 55 arenas across the U.S. and Canada and be promoted by AEG Presents. She will be joined on tour by special guests Maddie & Tae and Runaway June.
Tickets for the concerts go on sale to the general public beginning Friday, August 17th at 10am local time but please check local listings. For more information including the Cry Pretty album/ticket bundle, go to http://www.carrieunderwoodofficial.com. Also beginning Monday, August 13th, a limited number of exclusive VIP Packages will be available which include an amazing selection of tickets, Meet & Greets, autographed memorabilia, custom merchandise and much more.
Citi® is the official presale credit card for Carrie Underwood's "The Cry Pretty Tour 360" for 2019. As such, Citi® cardmembers will have access to purchase presale tickets beginning on Monday, August 13 at 12pm until Thursday, August 16 at 10pm through Citi's Private Pass® program. For complete presale details, visit www.citiprivatepass.com.
Underwood will release her eagerly-anticipated new album, Cry Pretty, on September 14. Cry Pretty will be her first studio album on Capitol Records Nashville and marks the first time she has co-produced her own album. The lead single and title track, "Cry Pretty" debuted as the #1 song in the U.S. all-genres. The song also topped download charts in 38 countries around the world and amassed over 3.5 billion social impressions across 66 countries during its week of launch in April, which was culminated with a show-stopping performance on the "2018 ACM Awards" telecast. Carrie co-wrote the powerful single with Hillary Lindsey, Lori McKenna, and Liz Rose (aka The Love Junkies) and co-produced Cry Pretty with fellow writer/producer David Garcia.
Following her successful "The Storyteller Tour – Stories in the Round," the new production will feature a brand-new stage in the middle of the arena floor, creating a unique 360-degree setting to allow fans on all sides of the arena an intimate view of the concert. Barry Lather (Rihanna, Mariah Carey, Michael Jackson) is the tour's Creative Director, and Nick Whitehouse/Fireplay (Justin Timberlake, Beyonce) is Production Designer.
"I love performing in the round," says Underwood. "It's so much fun for me and the band to play in every direction and creates a much more intimate and immersive experience for the audience, even in a larger arena setting. It's been exciting to introduce audiences to Cry Pretty and I can't wait to bring the new album to life on this tour, along with all of the songs we love to play live. I'm thrilled to be going out with an amazing line-up – Maddie & Tae and Runaway June are incredible artists that are going to bring even more electricity to our shows."
"Our customers love getting early access to the best in entertainment, so we are thrilled to be partnering with Carrie Underwood as the official presale credit card of her 2019 tour," said Jennifer Breithaupt, Global Consumer Chief Marketing Officer, Citi.
Underwood has arranged for a donation of $1 from each ticket sold for The Cry Pretty Tour 360 to be contributed to Danita's Children, which provides a safe haven for abandoned and vulnerable children in Haiti, while encouraging families to stay together through their education and malnutrition programs.
Prior to embarking on the tour next Spring, Underwood will appear at the upcoming iHeart Music Festival in Las Vegas, as well as such international festivals as The Long Road Festival and Radio 2 Live in Hyde Park in the UK, Tuckerville in The Netherlands, and Deni Ute Muster in Australia.