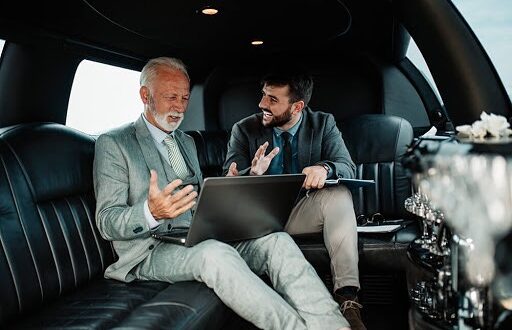 How to Maximize Your Corporate Limo
Rental Experience
Whether you're heading to an important business meeting, a high-profile event or just need to make a statement, renting a limousine is the perfect way to elevate your transportation experience.
To truly maximize your corporate limo rental experience, there are a few key factors to consider.
From selecting the right type of limo to choosing a reputable rental company, there are several steps you can take to ensure your ride is both luxurious and efficient.
In this blog post, we'll explore the top tips and tricks for making the most of your corporate limo rental.
Benefits of Corporate Limo Rental
When it comes to corporate events, making a good impression is crucial.
Renting a corporate limo can help you achieve that goal easily.
There are several benefits of corporate limo rental that you should consider, such as:
1. Convenience
When you rent a limo, you don't have to worry about driving or parking.
You can relax and focus on your work, or simply enjoy the ride.
Plus, you can be sure that you'll arrive at your destination on time and in style.
2. Comfort
Limos are designed for luxury and comfort, with amenities such as leather seats, climate control, and entertainment systems.
You can stretch out and relax or catch up on work in a comfortable and private environment.
3. Image
Arriving in a limo sends a message of success and professionalism.
It shows that you're serious about your business and willing to invest in it.
It can also help you make a good first impression on clients and colleagues.
Choosing the Right Limousine Service
Choosing the right limousine service is crucial to having a positive experience.
Here are some factors to consider while renting corporate limos:
1. Reputation
Look for a limo rental company with a good reputation in the industry, like Dream Limos.
Check out online reviews and testimonials to see what other clients have to say about their experience.
2. Fleet
Make sure the company has a good selection of vehicles to choose from.
Depending on your needs, you may want a classic stretch limo or a more modern SUV limo.
Here is the fleet of Dream Limos.
3. Services
Check what services the company offers, such as airport transfers, hourly rentals, or special event packages.
Make sure they have the right package for your needs.
You can check out the service rate of Dream Limos before booking us.
Understanding the Rental Process
Renting a limo can be a bit overwhelming if you've never done it before.
Here's what you need to know about the rental process.
1. Reservations
Make your reservation as early as possible to ensure the availability of the vehicle you want.
Be sure to provide all the necessary information, such as pick-up and drop-off locations, dates, and times.
2. Deposits
Most limo rental companies require a deposit to secure your reservation.
Make sure you understand the deposit amount and the refund policy.
3. Contracts
Read the rental contract carefully before signing it.
Make sure you understand the terms and conditions, including the cancellation policy and any additional fees.
Customizing Your Limo Experience
One of the best things about renting a limo is the ability to customize your experience.
Here are some ways you can make your corporate limo ride even more special:
1. Music
Bring your own music or ask the driver to provide a playlist that suits your taste.
Limos of Dream Limos come equipped with state-of-the-art sound systems.
2. Refreshments
Most limos come with a mini-bar and food options.
You can also bring your own refreshments, such as champagne or snacks.
3. Decor
If you're renting a limo for a special occasion, such as a wedding or prom, you can decorate it to match the theme.
Talk to the rental company about your options.
Maximizing Your Time in the Limo
Make the most of your time in the limo by following these tips:
1. Use it as a Mobile Office
If you have work to do, take advantage of the privacy and comfort of the limo.
Bring your laptop, phone, or tablet and catch up on emails or presentations.
2. Network
If you're traveling with colleagues or clients, use the time in the limo to network and build relationships.
You can use the opportunity to discuss business or get to know each other better.
3. Relax
If you're not in the mood for work or networking, simply sit back and enjoy the ride.
Use the time to meditate, read a book, or listen to music.
Etiquette Tips for Corporate Limo Rental
To ensure a smooth and enjoyable experience, it's important to follow some basic etiquette rules.
1. Be on Time
Respect the driver's time and be ready to leave at the agreed-upon time.
If you're running late, let the rental company know as soon as possible.
2. Be Respectful
Treat the limo and the driver with respect.
Don't smoke, eat messy foods, or leave trash behind.
And don't ask the driver to break any traffic rules.
3. Tip the Driver
If you're happy with the service, don't forget to tip the driver.
The standard tip is 15-20% of the total cost.
Cost Considerations
The cost of renting a limo varies depending on several factors, such as the type of vehicle, the rental company, and the length of the rental.
Here are some cost considerations to keep in mind:
1. Hourly vs. Flat Rate
Some rental companies charge by the hour, while others offer a flat rate for the entire rental period.
Make sure you understand how the company charges to avoid surprises.
2. Additional Fees
Be aware of additional fees, such as fuel surcharges, tolls, and gratuity.
Make sure you understand what's included in the rental cost.
3. Discounts
Ask the rental company if they offer any discounts, such as corporate rates or package deals.
You may be able to save money by booking in advance or renting during off-peak times.
Safety and Security Measures
When renting a limo, safety should be a top priority.
Here are some safety and security measures to consider.
1. Insurance
Make sure the rental company has adequate insurance coverage in case of an accident or damage to the vehicle.
2. Driver Screening
Ask the rental company about their driver screening process.
Make sure they conduct background checks and drug tests on all drivers.
3. Safety Features
Check that the limo has safety features such as seat belts, airbags, and GPS tracking.
Conclusion
Renting a limo for your corporate events can be a great way to make a lasting impression and elevate your transportation experience.
By following these tips and tricks, you can maximize your corporate limo rental experience and arrive in style.
Dream Limos offers the best corporate limo rental in the Lower Mainland and Fraser Valley. Book now.
We offer the best Vancouver limos and Surrey limos.