Introduction
Are you ready to take your partying experience to a whole new level? Look no further than party bus Vancouver services.
Party buses are the ultimate way to celebrate any occasion in style and luxury. Whether you're planning a birthday bash, a bachelor or bachelorette party, or simply want to have a night out on the town with your friends, a party bus rental is the perfect choice.
These party buses are equipped with all the amenities you could ever dream of, including dance floors, state-of-the-art sound systems, and even disco lights.
And the best part? You can keep the party going while you travel from one destination to another.
So, gather your squad, hop on board the party bus, and get ready for an unforgettable night of fun and excitement!
Why Choose a Party Bus in Vancouver?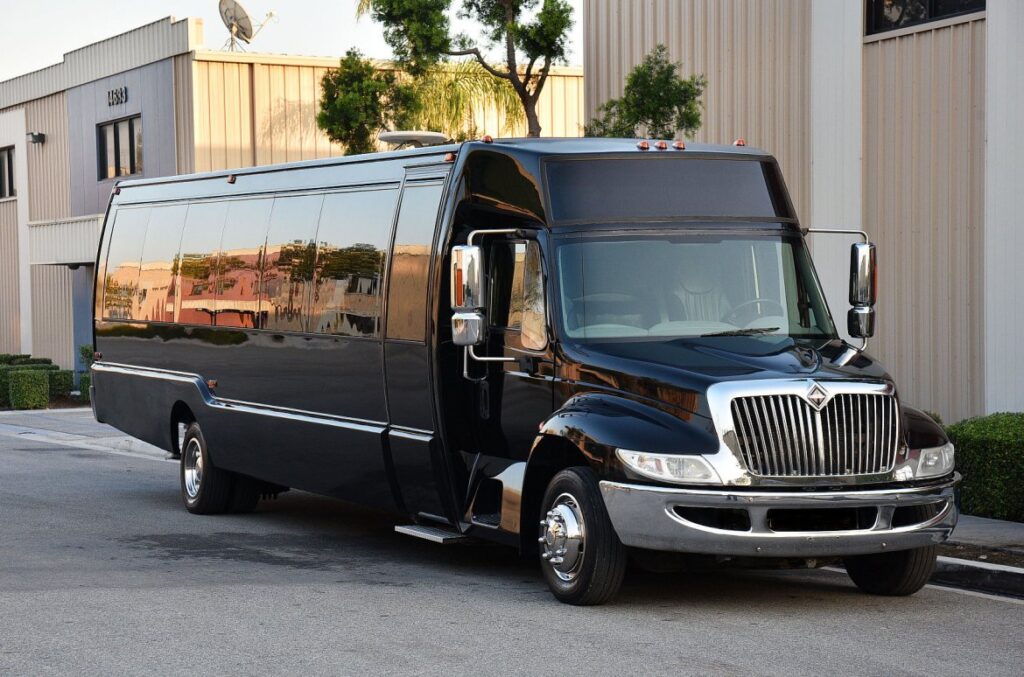 If you want to have an unforgettable time while traveling around Vancouver, then you must try the party bus in Vancouver.
It's the most innovative and exciting way to travel and have fun. Unlike the traditional transportation methods, the party bus offers a unique experience that is hard to match.
It's like having a private club on wheels! You can dance, drink, enjoy music, and socialize with your friends while cruising through the streets of Vancouver.
Moreover, convenience is another significant advantage of opting for a party bus in Vancouver. You don't have to worry about driving, finding a parking spot, or hailing a cab.
The party bus picks you up from your doorstep and drops you off at your desired destination. You can customize your itinerary and travel according to your schedule.
Whether it's a birthday party, prom night, or corporate event, the party bus in Vancouver provides a safe and comfortable means of transportation for groups of all sizes.
If you want to have a once-in-a-lifetime experience while traveling in Vancouver, you must try the party bus!
It's the ultimate way to travel in style, comfort, and convenience while having fun with your friends.
Don't settle for traditional transportation methods when you can have an unforgettable time on a party bus!
Why Choose Dream Limos?
If you are looking to enjoy the best party bus limo experience in Vancouver, you have come to the right place. Dream Limos offers party bus in Vancouver that is fully loaded with luxury amenities.
All you must do is call us at 604-330-6767 and reserve the party bus of your choice.
People approach Dream Limos for party buses in Vancouver for various occasions. We provide party bus rental in Vancouver for anniversaries, birthday parties, bachelor and bachelorette parties, sight-seeing tours, graduation ceremonies, night out with friends, weddings, and prom events.
Whatever the occasion, Dream Limos will provide you with the luxury experience in our party buses.
Our party bus Vancouver service can accommodate up to 30 passengers. You can move around in the party bus, greeting and entertaining your guests.
We have the best audio/video technology on board to make your trip enjoyable.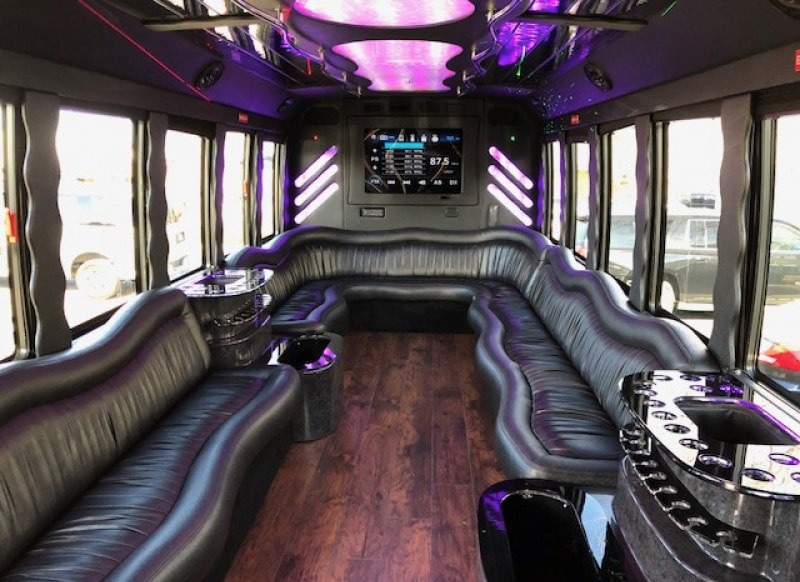 Once you book our party bus rental in Vancouver service, you don't have to worry about anything else. You are free to party hard with your guests.
If you are planning to party the whole night, you may need a lot of amenities to enjoy without worrying about anything.
Particularly so if you have many guests in the party bus. Our party bus Vancouver service comes prepared with everything you need for a stress-free partying.
Dream Limos offers our party bus rental in Vancouver to corporations as well. For office parties, Christmas parties, corporate functions, or cruise transfers, check out our party bus Vancouver service and charter bus service.
Professional and Experienced Staff
Our party bus in Vancouver offers more than just a designated driver. Our experienced chauffeurs not only take care of the wheels, but they also know the ins and outs of the city.
With their extensive knowledge, you can trust that they will navigate through Vancouver's bustling streets with ease, ensuring a smooth and safe ride for you and your party.
Whether you're exploring the vibrant downtown area or venturing out to the scenic outskirts, our chauffeurs will expertly guide you to your destination.
So go ahead, dance the night away and enjoy every moment of your celebration knowing that our skilled drivers have got your back.
With our party bus service, you can have a worry-free and unforgettable experience in Vancouver. It is one of the reasons why our party bus rental in Vancouver is hugely popular.
Places where Dream Limos offers party buses
We offer our party buses in Abbotsford, Aldergrove, Burnaby, Chilliwack, Cloverdale, Coquitlam, Delta, Langley Limo, Maple Ridge, Mission, New West, North Vancouver, Port Moody, Richmond, Surrey, Tsawwassen, Vancouver, West Vancouver, Whistler, White Rock, and Pitt Meadows.
So, that is the whole of BC, where we offer our party buses for the ultimate luxury experience.
Customer Reviews and Testimonials
The amazing reviews we have received are testimonials to the excellent service we provide in Vancouver.
Here are some of the reviews we received from happy clients.

Our Fleet
Our exciting fleet of party buses and limousines is here to make your celebration one to remember forever.
With a variety of options available, you can customize your party bus or limousine according to your preferences.
Whether you're throwing a wild bachelor party or planning a glamorous girls' night out, we've got the perfect vehicle for you.
We have a large fleet of party buses and limousines to choose from. It is you who decides which party bus or limousine you want to travel.
When you choose our party bus in Vancouver rental service, you decide the party bus, time, and route to travel. You get to party as the party bus moves around Vancouver, touching various amazing spots in the city.
Take a look at our fleet.
Booking Process
At Dream Limos, we strive to make the booking process for our party bus in Vancouver as easy and convenient as possible. Whether you prefer online or phone communication, we have you covered.
Our website features a user-friendly booking form that allows you to input your desired date, time, and other specifications for your party bus reservation.
Simply fill out the form and submit it, and our team will promptly review your request and confirm your booking.
Alternatively, if you prefer speaking with someone directly, you can give us a call on our phone number 604-330-6767 and one of our friendly staff members will assist you in booking the perfect party bus for your event in Vancouver.
We understand the importance of a seamless booking experience, and we are committed to providing exceptional customer service every step of the way.
So, whether you choose to book through our website or give us a call, rest assured that reserving your party bus in Vancouver with us will be a hassle-free process.
Safety and Regulations
As a reputable provider of party bus services in Vancouver, Dream Limos takes our commitment to safety and compliance with regulations very seriously. Our top priority is the safety and well-being of our clients, and we go to great lengths to ensure that our party buses are always in top condition and meet all relevant safety standards.
We take a proactive approach to safety by conducting regular maintenance and inspections on our vehicles, and we keep detailed records of all maintenance and repair work.
Our drivers are highly trained and experienced, and they are required to adhere to strict safety protocols at all times.
In addition to our commitment to safety, we also make sure that we comply with all applicable regulations regarding the rental of party buses in Vancouver.
This includes obtaining all necessary permits and licenses, as well as following any guidelines or restrictions that may be in place.
We believe that by emphasizing safety and compliance, we can provide our clients with a safe, enjoyable, and stress-free party bus experience.
You may like to know more about our policies and regulations.
Conclusion
Are you looking to add a touch of luxury and excitement to your upcoming event in Vancouver? Look no further than the incredible party bus in Vancouver offered by Dream Limos.
With our top-notch fleet of party buses in Vancouver, we guarantee that your event will be one to remember.
Whether it's a birthday party, bachelor or bachelorette party, or just a night out on the town, the party bus in Vancouver service from Dream Limos is the perfect choice.
Don't miss out on this opportunity to create lifelong memories – book your party bus experience today.Call us and our reps will help you to reserve your party bus Vancouver service.